Do I need to be experienced?
What do I wear to a session?
We recommend that you wear workout attire and tennis shoes.  You want to wear something that you can move and sweat in comfortably.
No. We modify our exercises to fit all fitness levels.  We want each client to feel strong, powerful and proud when they complete their session.  We will help you along your fitness journey!  Even if you are looking for gyms in Lexington, KY for the first time, you will fit in here.
Do you offer specials?
How do I pay for Personal Training?
Yes!  We offer discounts to Military/ Fire Dept/ Law Enforcement/ Students with ID.
With no contract, billing is simple! At the end of each month, you're only billed for the sessions you used.
How do I pay for Group Sessions?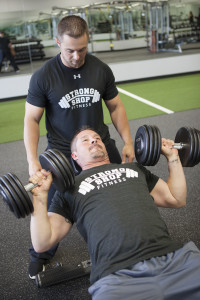 You can pay online when you sign up for your session or you can pay at our front desk.  You can pay by each session or choose of our package options and receive discounted rates.  Sessions range from $15-$20 depending on the option you choose.   We offer the most competitively priced fitness classes in Lexington, KY.
Do I have to do Personal Training before I can do group sessions?
No! Group sessions are open to anyone.  However, personal training clients do receive a discount for Shred sessions.
How do I sign up for group classes?